Designer's Guide to Drapery Panels
February 23, 2023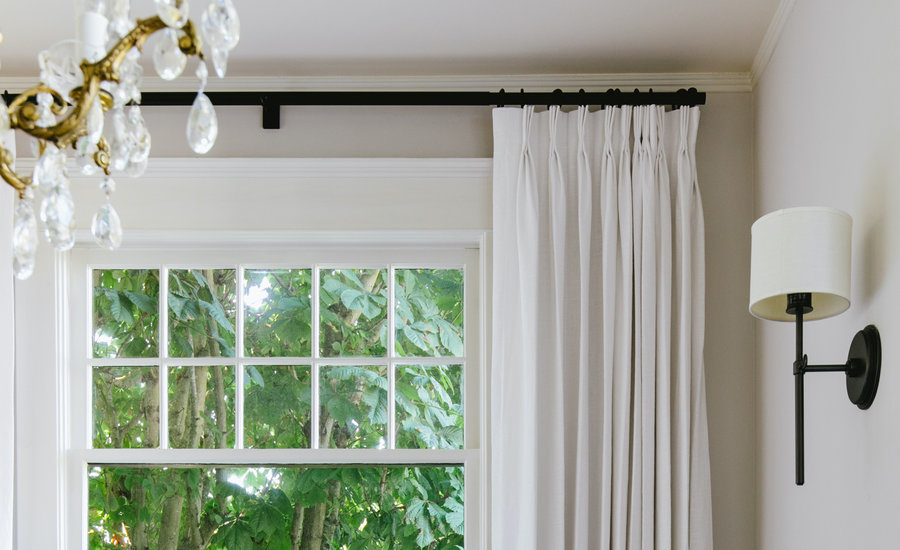 Drapery panels are essential for making a room feel finished and thoughtfully designed. We recommend them for all of our design projects! Although it might sound like an easy/quick update to your space, there is actually a lot to consider when incorporating draperies into your home. Style, fabric, hardware, length, installation, etc are all taken into consideration. 
In hopes of making your drapery selection process a little easier, we have outlined all the important details to consider! Expertly executed draperies will have a huge impact on your room and trust us, the wrong panel style or length can totally ruin an otherwise beautiful space. Panels that are too short are kind of like pants that are too short - the just don't look right! 
Keep reading for all our best tips for selecting the perfect drapery panels for your home!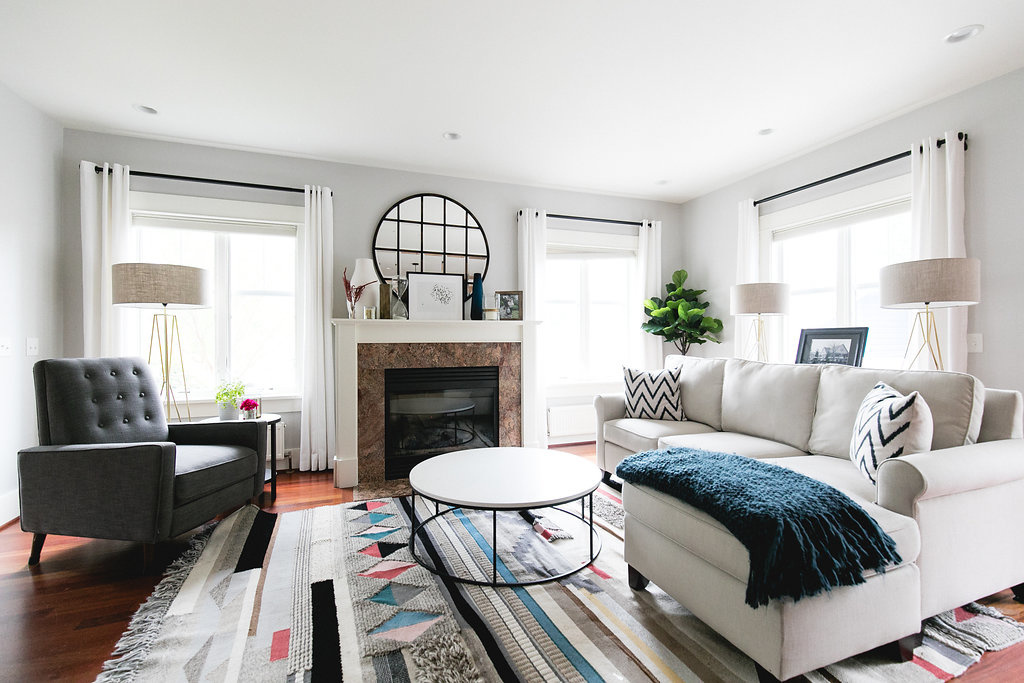 1: Function
The first step in selecting draperies for any room in your home is to decide what purpose they serve in the rom. Will the panels be purely decorative? Or, are they needed for light blocking or privacy?
TIP! If the panels are for decorative purposes only, and are not meant to close, then the width of panel should be ½ the width of your window (including trim). For example, if your window is 40"W (including trim), then each of your side panels should be roughly 20" wide.If draperies need to fully close, the width of each drapery panel should be the full width of your window (including trim). For example, if your window is 40"W (including trim), then each of your drapery panels should be roughly 40" wide.
If you want your panels to do both, consider a double drapery rod. You can hang blackout panels or privacy sheers on the inside rod and decorative panels on the outside rod.
2: Hardware
The next step in the drapery process is hardware selection. Hardware acts as a decorative feature in your room, so it's important to select a finish that will coordinate with other finishes (like door knobs, light fixtures or cabinetry hardware) in your room. 
TIP! Our favorite drapery hardware finishes are matte black, antique brass, pewter and acrylic. 
You might be wondering what size rod would be best in your space. Drapery rods rand from very slim and dainty (0.5" diameter) to heavy a statement-making (2" diameter). This is purely a stylistic preference! It depends on if you would like your hardware to be subtle or if you'd like it to add visual weight to the room and really make a statement. 
TIP! We generally recommend a 1-1.25" diameter drapery rod. This is a safe range that will give you a substantial rod without looking too bulky. 
The last step when deciding on hardware is selecting a finial shape. A finial is a fixture that screws into each end of a drapery rod, all rods require a finial. There are several different shapes, so choose one that mirrors the style of your home and furnishings. 
TIP! Our favorite shape is an end cap finial, it is simple and timeless.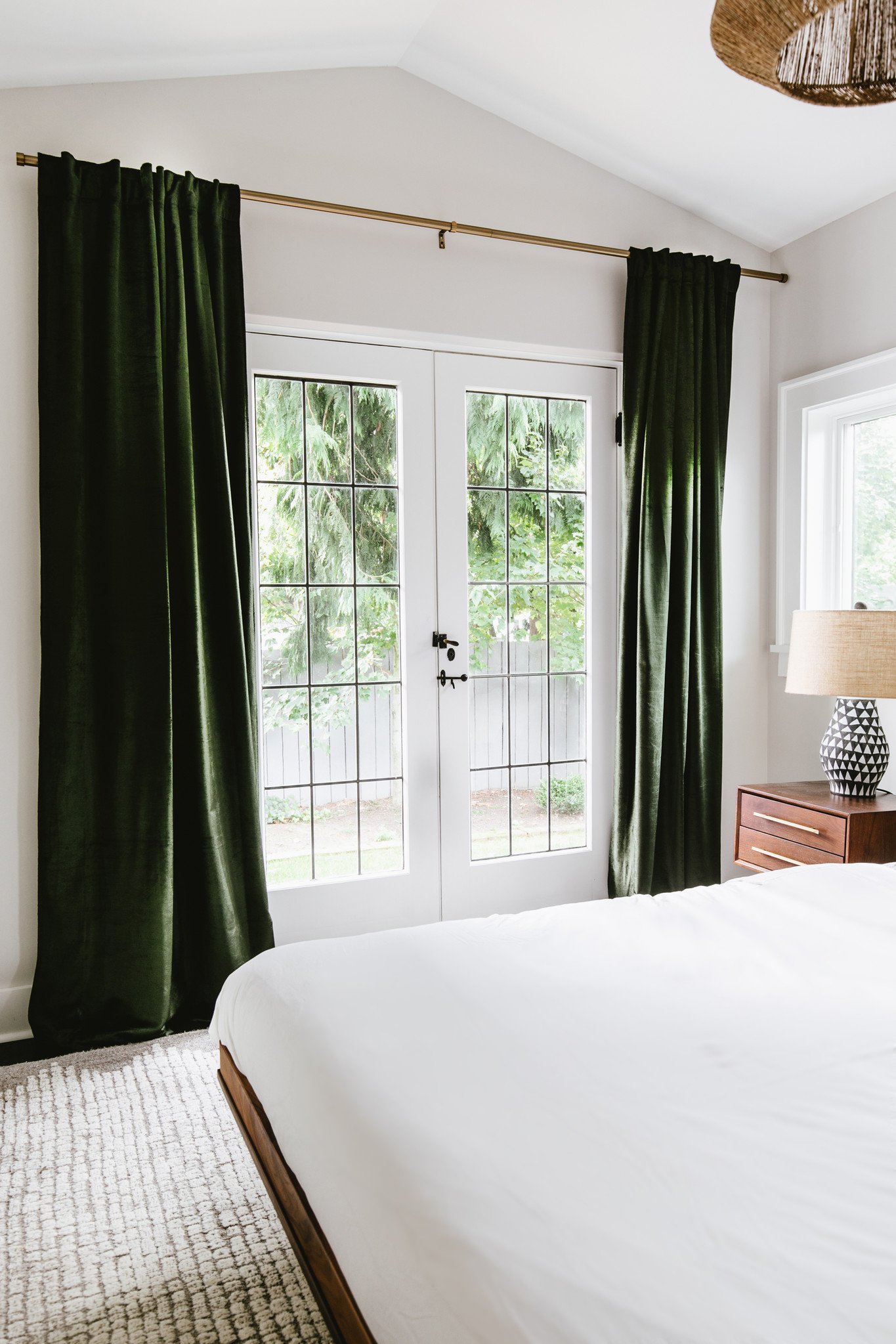 3: Style + Fabric
Now its time to get to the actual draper panels! There are several styles to choose from. Here's our take on popular styles: 
Grommet
Grommeted panels are a great choice for modern homes. We love grommeted panels because they fold in a very uniform fashion and look very organized. These are great panels for those who want a more minimal look on their windows.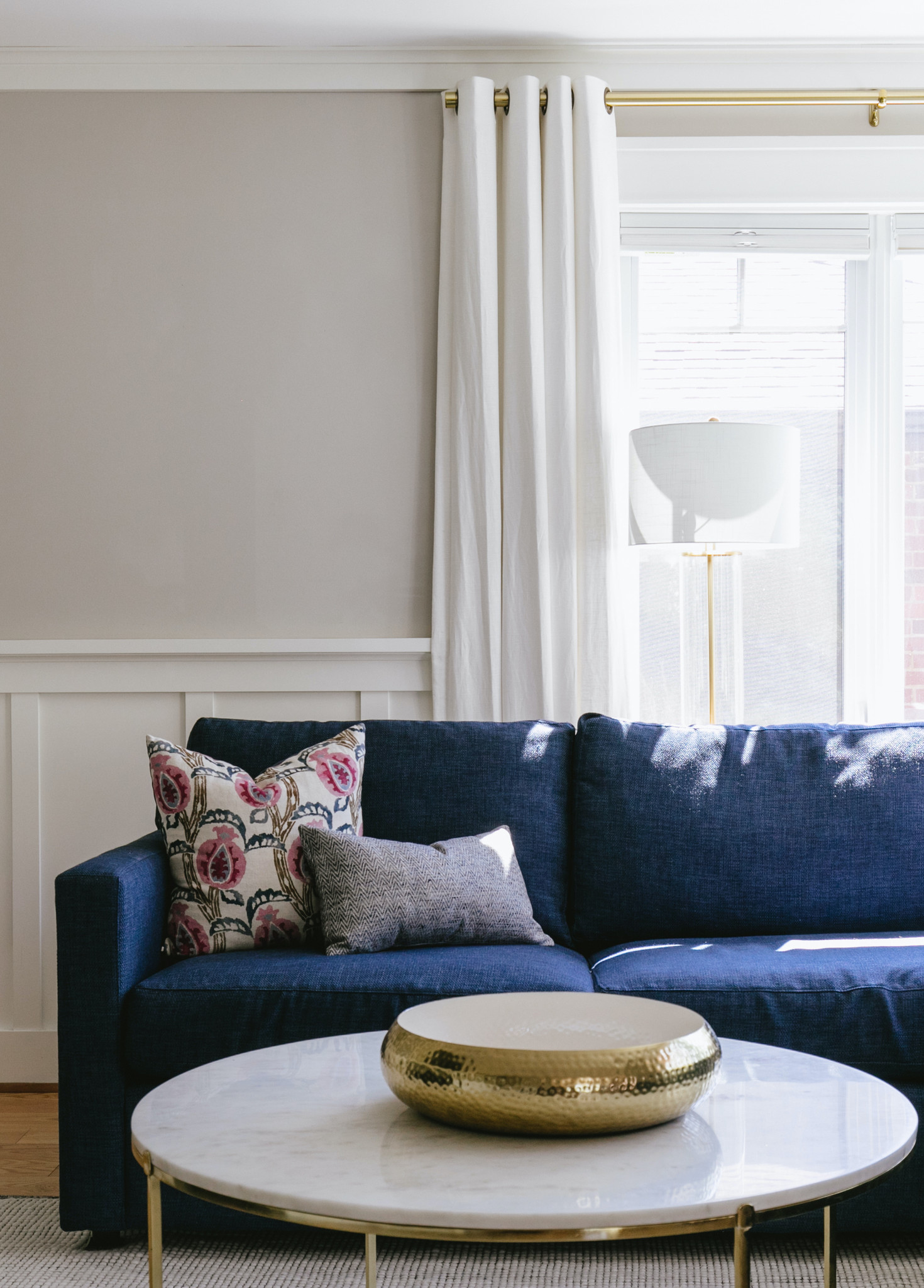 Pleated 
Pleated panels offer a distinct style that can lean transitional, modern, or even vintage. There are many types of pleats including 2-3 finger pinch pleats, 2-3 finger euro pleats, inverted box pleats and goblet pleats.

Pleated panels require hardware rings that are hung by pins, sewn into the back of the panel. Pin settings can be adjusted to reveal more/less of the ring when the panels are hung.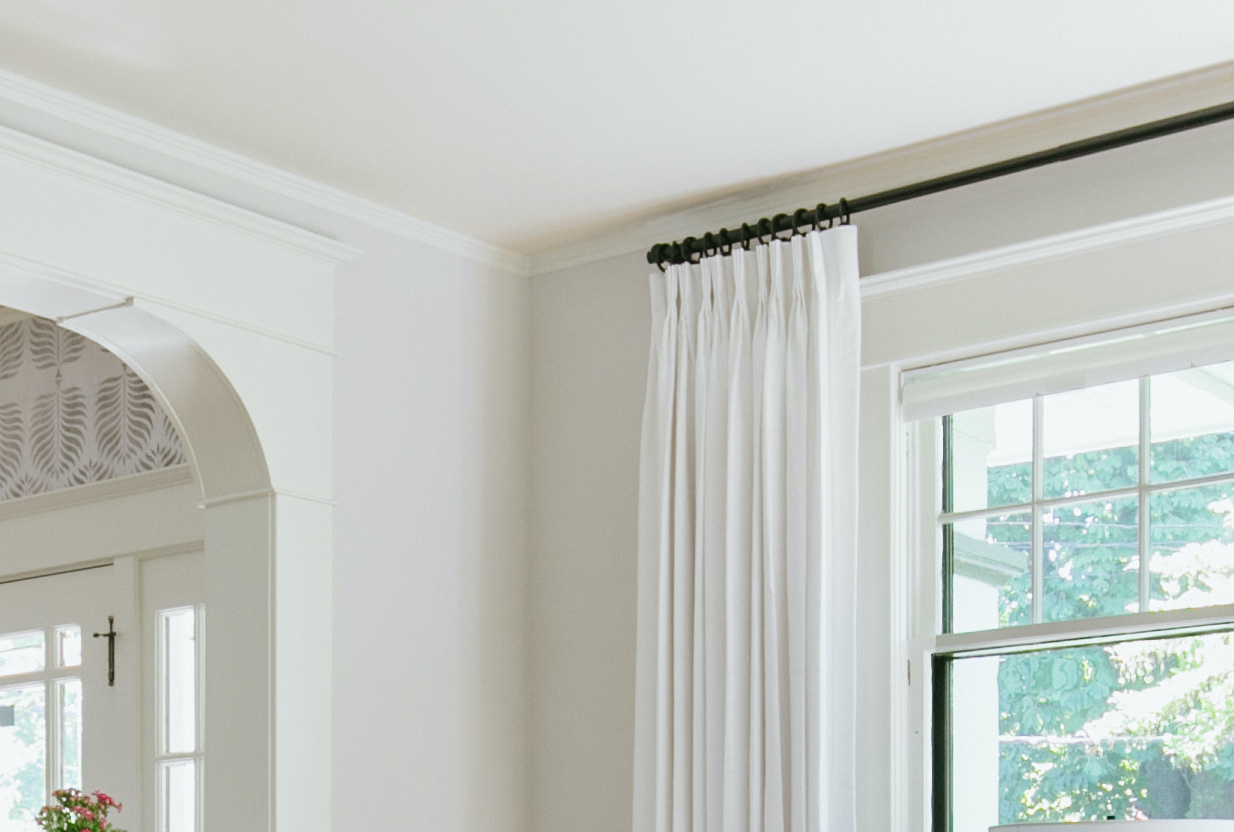 Ripplefold
Ripplefold panels are the best option for extra wide windows and provide a beautiful uniform fold. Ripplefold track sets can be wall or ceiling mounted. These type of panels are hung on the underside of the track to avoid hitting brackets as the panels are opened and closed. If this is the kind of drapery panels you are interested in, we definitely recommend working with a professional interior designer. 
4: Installation
Drapery panel installation can be the hardest part of the process if you're not sure where to mount your rod. TIP! In general the length of your rod should extend about 8" on each side of your window trim. For example, if your window is 40"W (including trim), then your drapery rod should be 56"W. If you don't have wall space to accommodate 8" of rod extending on each of your window, then measure the max length and replicate that length on the other side of your window. For example, if you have a 40" wide window, but only 7" of wall space on the right side, then your rod should be 52" long, allowing 1" on each side to attach an end cap.
The next thing to consider is how high to mount your rod. Mounting too low will result in your windows looking smaller and your ceiling looking shorter. A good starting place is the halfway point between the top of your window trim and your ceiling (or the bottom of your crown molding). Move your rod upwards from there. We often hang draperies right underneath the crown molding in order to make the overall space and window appear larger. Your rod should hang so that your panels barely 'dust' the floor, hanging 1/8-1/4" up off the ground.
5: Consult A Professional!
Our best advice for perfect drapery panels? Hire a professional interior designer to design and order your custom hardware and draperies. Not only will all of the measurements be perfect, but you'll be able to select from a wide variety of materials, fabrics, and finishes that aren't generally available through retail outlets.
The Phinery offers made to order quick ship linen drapery panels in a variety of lengths and widths. We also offer custom panels in prints and solids. Material samples are available for checkout at our local design studio in Seattle. Make an appointment today to talk to us about your project!
Check out our projects with custom drapery panels.