Fool Proof Tips For A Swoon-Worthy Mantel
November 08, 2023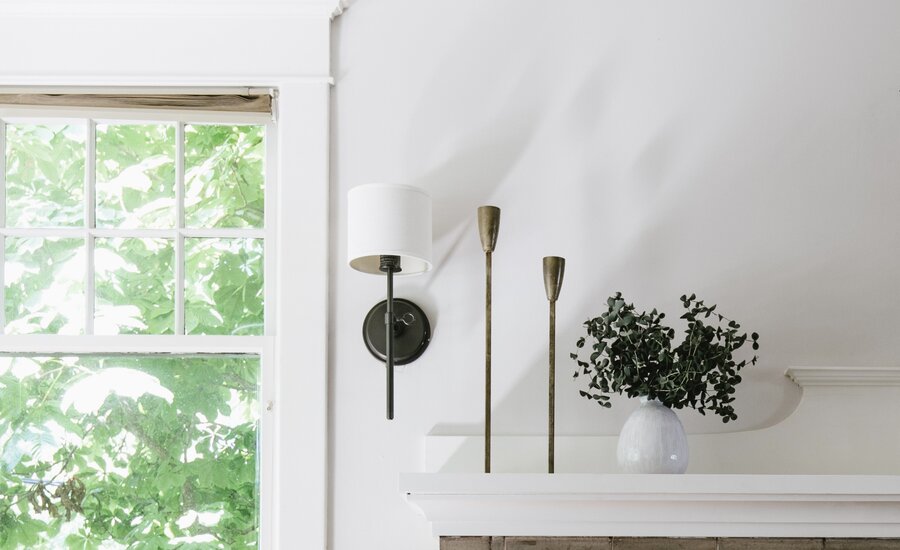 Our interior design clients frequently ask for help styling certain areas in their home and the mantel is our top request! This can be an area of your home that feels 'unfinished' or like it is missing something if you don't have the right items or if the arrangement doesn't feel balanced.
During the holiday season especially, the mantel is a top priority since the living room is often a central place for many holiday gatherings. With a few easy styling tips, your mantel can become the focal point of your living space and set the tone for the rest of your home, during the holidays and for the rest of the year! In this blog, we will outline our best tips for styling your mantel along with some ways to make your mantel feel even more festive for the holidays.
1. Embrace Seasonal Botanicals
One of the easiest ways to create a beautifully styled mantel is by incorporating seasonal botanicals. The beauty of using botanicals is that they can capture the essence of the season without making your room feel overly themed. During the winter months, consider using elements like fresh evergreen branches, pine cones, holly berries, or eucalyptus. These natural elements add both color and texture to your room. Arrange them in a vase on one side of the mantel to create height and add some visual weight to an otherwise empty space. You can also display greenery on top of your mantel using garlands for a more traditional holiday look.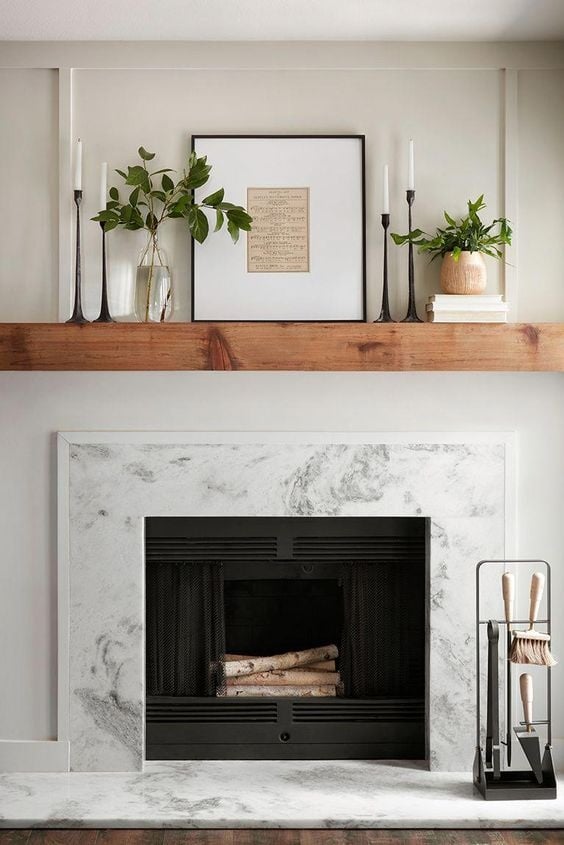 Photo via Magnolia Home
2. Create Height with Candle Holders
Candle holders are a timeless and versatile addition to your mantel scheme. They serve a dual purpose – adding height and balance to your arrangement while also providing a warm, ambient glow. To create a visually pleasing display, mix and match various candle holders of different heights, styles, and finishes. You can use pillar candles, taper candles, or tea lights to achieve a captivating and cozy ambiance. Candle holders are a great opportunity to incorporate contrast, using a material like iron, or to add a reflective element using gold or silver. Brass candle holders are a great way to add a festive touch to your mantel. 
3. Incorporate a Statement Center Piece
They key to a beautiful mantel is a swoon-worthy center piece. For this, we generally opt for a large mirror or piece of art. Mirrors are a great way to throw light around the room and help make your space feel larger. Consider choosing a mirror with a unique shape, which not only adds elegance but also draws the eye upward, making your room feel more open and inviting. A large piece of art is a another great way to anchor your mantel. You can use your piece to incorporate more color/contrast into your space, or you can opt for something neutral and textural for a more subtle statement. *Choosing a more neutral piece of art will make layering decor in front of it a little easier! 
Photo via Afloral
4. Personalize with Framed Photos
Adding a personal touch to your mantel helps add interest and make your space feel unique and personal. We recommend adding 1-2 pieces or small frames. These can be anything from photos, to quotes or small pieces of art. These framed pieces help to create a layered look that will make your home feel effortlessly collected, rather that overly styled. Whether it's a cherished family photo, a vintage holiday postcard, or your child's hand-drawn artwork, these personal items infuse your home with sentimental value. During the holidays, these can be replaced with framed holiday cards or family holiday photos from years past. 
Photo via Centsational Style
5. Create Balanced Layers
For some, arranging items on a mantel is the most difficult part of the process. Following these simple tips will help you create a beautiful and balanced scheme: 
Select a center piece (a mirror or artwork) that takes up at least the middle third of your mantel to anchor the other smaller items. 
Layer smaller items on both the right and left side of the mantel. Try to keep things in groupings of odd numbers, this helps the mantel feel balanced. For example, you might want to place three candle holders of different heights on one side of the mantel and a large vase with botanicals on the other. 
Resist the urge to line items up in a straight line! Instead, focus on creating groupings. Grouping items together in an artful manner helps achieve a balanced and effortless look. Mix and match your seasonal botanicals, candle holders, framed photos, and any other decorative items in a way that feels visually appealing to you. You will probably have to experiment with a few different arrangements until you find the one that works best - that's okay! If you need to clear the mantel off and start over, go for it. Styling is all about trial and error.
Layer artwork or photographs over your centerpiece item, don't be afraid to let the items on each side creep towards the middle of the mantel. This will allow the scheme to feel more organic. If you like a full look, add a few more items to your mantel, but be careful not to overdo it. You want to avoid an end result that appears cluttered. If you prefer a more minimal look, that works too! Lean into clean lines and let the blanket space provide a welcomed relief between items. 
Photo via Southern Hospitality Blog
Decorating your mantel is a wonderful opportunity to infuse your home with elegance, warmth, and personal touches. By incorporating seasonal botanicals, candle holders, mirrors, framed photos or artwork, and creating balanced groupings, you can create a captivating mantel display that welcomes the festive spirit into your living space. So, let your creativity flow, and enjoy the process of making your mantel a focal point that radiates the magic of the holidays.
Other resources for creating a perfectly curated mantel: How to Style a Mantel According to Experts | 35 Mantel Decor Ideas That Look Amazing In Any Space | 7 Fireplace Mantel & Decor Combos For Any Style | Joanna Gaines' Best Tips For Decorating Your Mantel | Mantel Decor Ideas + Styling Tips