Our Favorite Cozy Fall Paint Colors by Benjamin Moore
October 21, 2023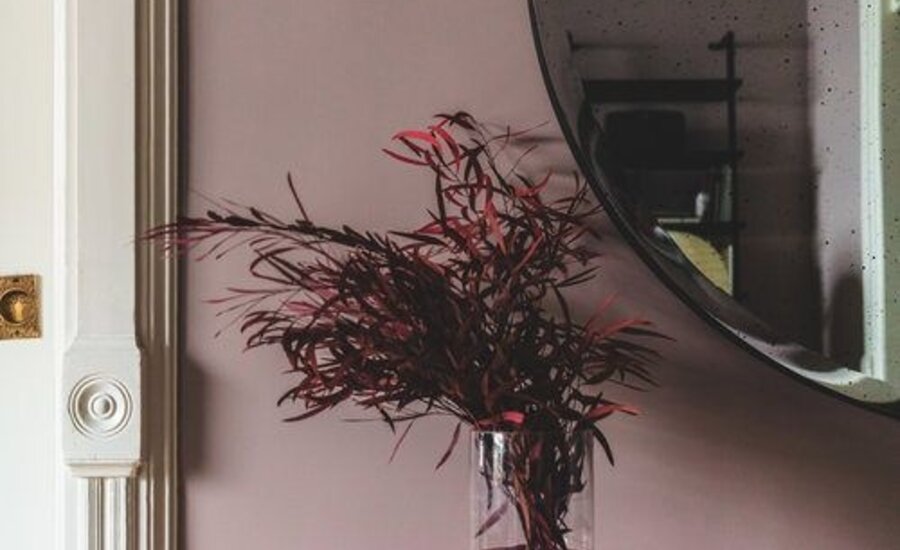 When it comes to creating a warm and inviting atmosphere in your home, choosing the right paint colors can make all the difference. In this blog, we will explore how you can use six of our favorite cozy Benjamin Moore shades to transform your home. Whether you're looking to add a touch of elegance, create a soothing retreat, or infuse your home with character, these colors – Wenge, Townsend Harbor Brown, Lost Locket, Providence Blue, Knoxville Gray and Flint – have you covered.
Wenge: A Dark and Dramatic Backdrop
Wenge is a deep, rich brown with a hint of red undertones. It creates a sense of drama and opulence in any space. Consider using Wenge as an accent wall in your living room or dining area. Pair it with light-colored upholstered furniture, wood pieces and greenery to create a striking contrast that exudes warmth and sophistication.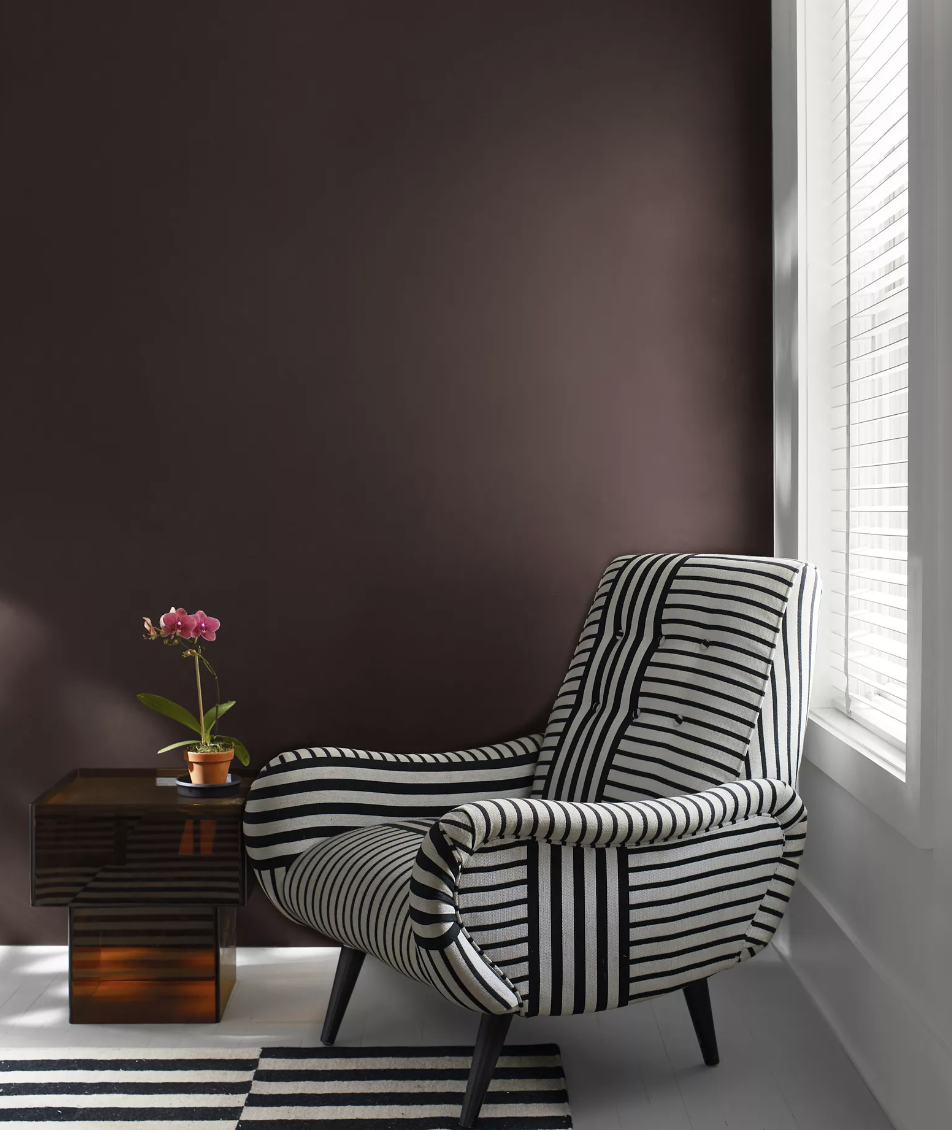 Photo courtesy of Benjamin Moore
Townsend Harbor Brown: Earthy Comfort
Townsend Harbor Brown is a dark, grounded burgundy reminiscent of clay-rich soil. This color is the ultimate earth tone and will infuse any room with warmth and comfort. We love imagining this Townsend Harbor Brown in a formal dining room with plush upholstered dining chairs.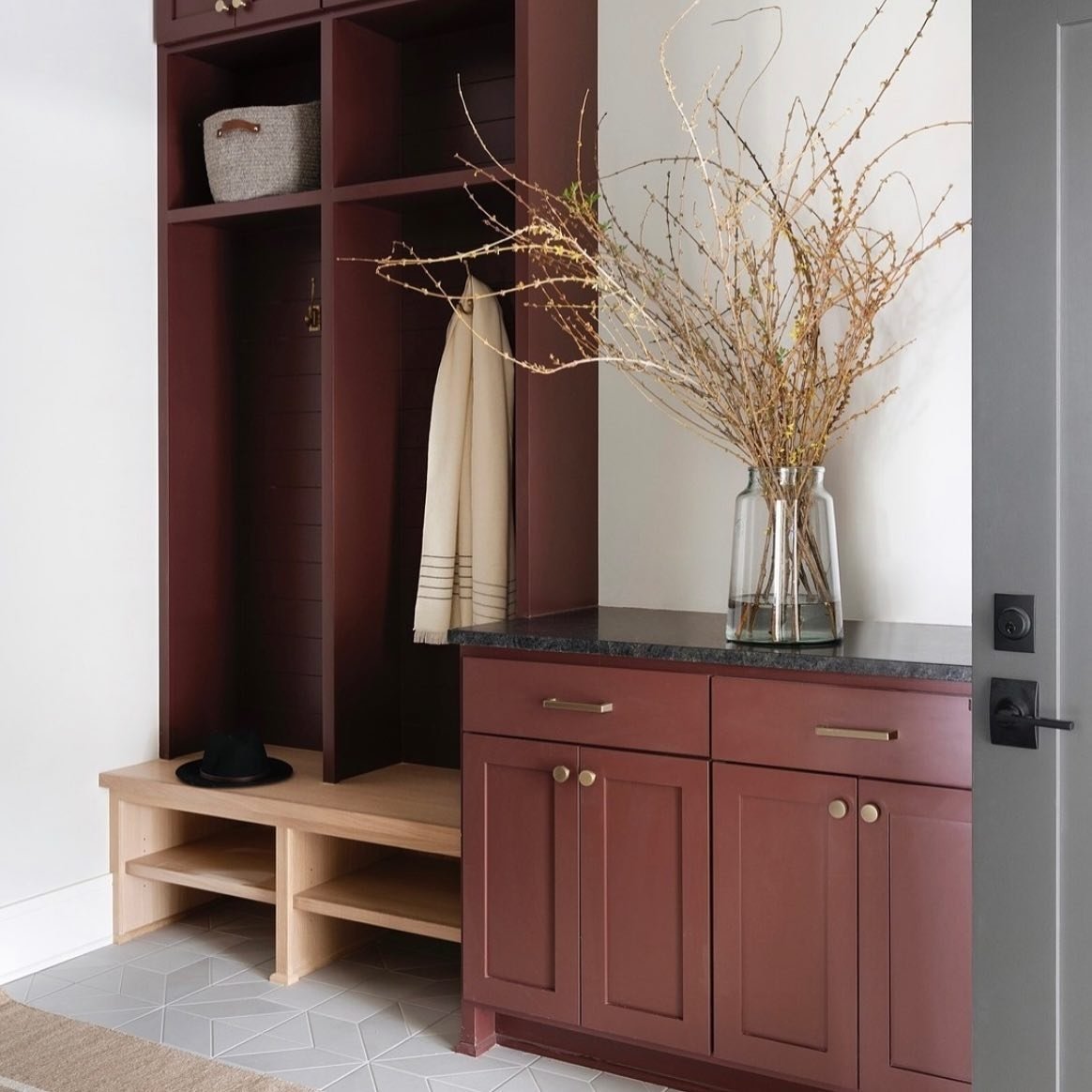 Photo courtesy of Benjamin Moore
Lost Locket: Comforting Elegance
Lost Locket is a beautiful dusty rose hue that works to soften any room - we like to think of it as 'mature pink'. Although it is part of the pink family, this color leans much more sophisticated than other blush tones that appear more whimsical and youthful. We envision Lost Locket in a sophisticated bedroom, family room or a statement-making entryway.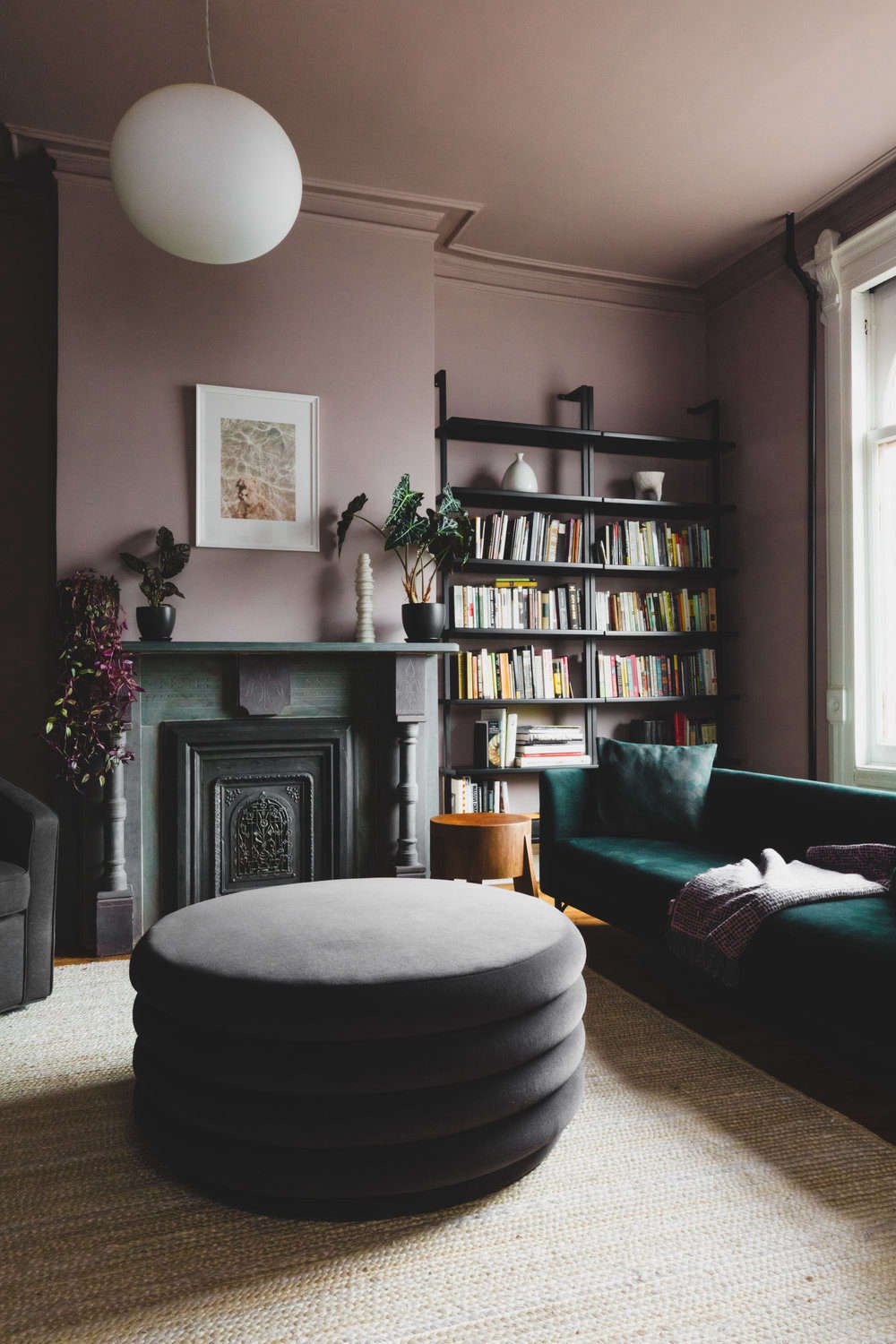 Photo courtesy of Remodelista
Providence Blue: Refined Tranquility
Providence Blue is a classic shade of blue that exudes calm and timeless charm. This color has gray undertones that keeps it from reading to bright or saturated. It pairs well with white or cream furnishings, adding a touch of coastal tranquility and Hamptons-like elegance to your space. We love the idea of Providence Blue kitchen cabinets or even a relaxing guest room or office/study.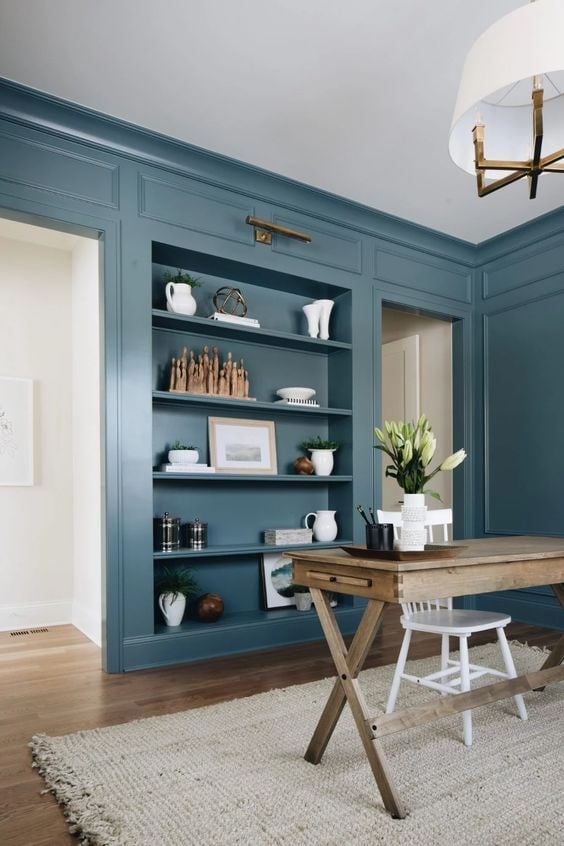 Photo by Stoffer Photography
Knoxville Gray: A Pop of Personality
Knoxville Gray is a gorgeous blue/green with lots of gray undertones. This color will undoubtedly make a statement in your space. We love the idea of drenching an office in this rich color, as we know greens encourage productivity and creative thinking. It would serve as a beautiful choice for a statement-making kitchen island or even a painted furniture piece. This dark hue is incredibly grounding, something that helps make a space feel cozy and inviting.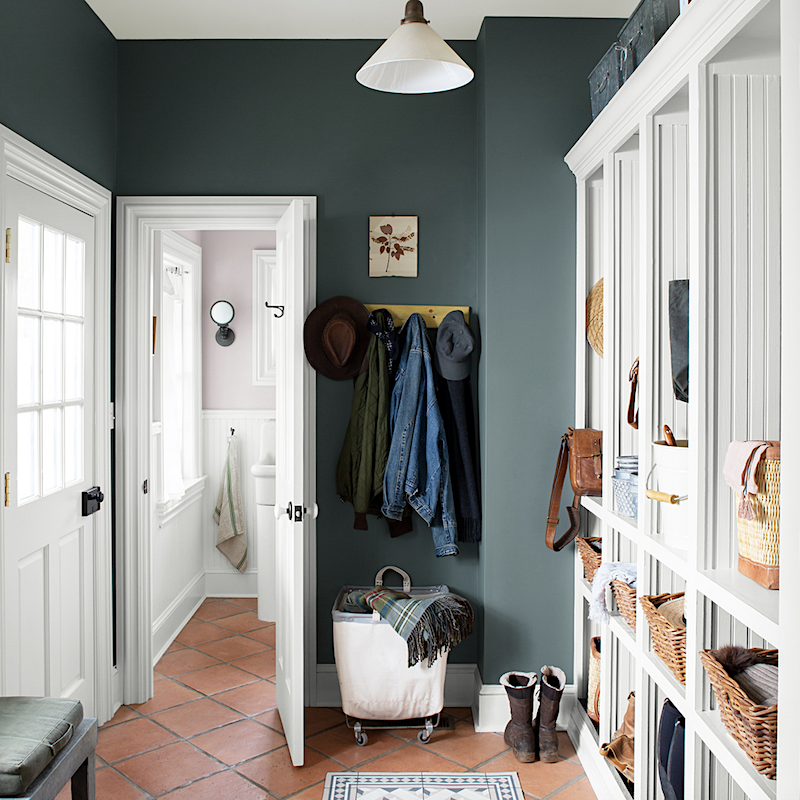 Photo courtesy of Pinterest
Flint: Cozy Contrast 
Flint, a deep, versatile gray, adds a touch of sophistication to any room. Use it in your home office, kitchen, or even as an overall wall color in your living area. Flint pairs beautifully with both warm and cool-toned décor, making it an ideal choice for those seeking an elegant, neutral backdrop. Becky adorned the walls of her moody whiskey library with this gorgeous color. Paired with a neutral rug, rich leather chairs, and a statement chandelier, this room is ultra sophisticated and incredibly inviting.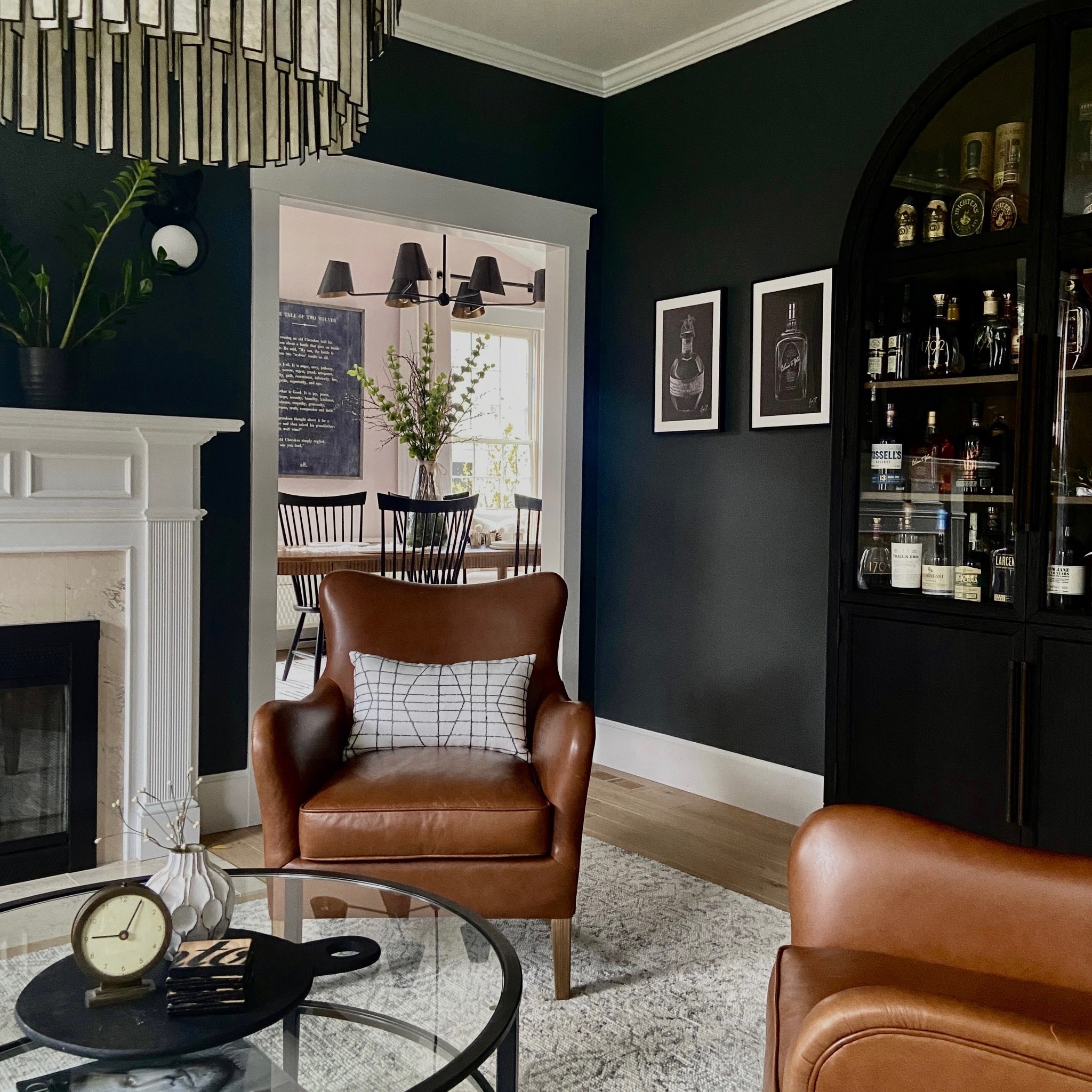 Tips for Success
Test Swatches: Before committing to a full room makeover, always test a small section of your chosen color on the wall to see how it interacts with your lighting and existing décor. 

Create Balance: When using darker or bolder colors like Wenge, Townsend Harbor Brown, or Knoxville Gray, balance them with lighter elements (like furniture, rugs and textiles) to prevent your space from feeling too heavy.

Consider Sheen: The sheen of your paint can affect the way the color appears. Matte or eggshell finishes are often the best choices for creating a cozy ambiance. If you really want to saturate the room, paint your trim, millwork and door the same color as the walls - opt for a gloss finish trim to add a bit of sophistication. 
Benjamin Moore's cozy paint colors offer a world of possibilities for transforming your home into a warm and inviting sanctuary. Whether you prefer the richness of Wenge, the softness of Barberry, or the versatility of Flint, these colors can help you achieve the cozy and layered home you dream about. Don't be afraid to experiment and have fun infusing your personality into your living spaces with these beautiful hues. 
Considering new paint colors for your home but need advice from our professional color consultant? Book your interior or exterior color consult here.