Tips to Enhance Your Home's Curb Appeal
August 16, 2022
TIPS TO ENHANCE YOUR HOME'S CURB APPEAL THIS SPRING
The sun is beginning to come out in the Seattle and it finally feels like Spring is near. The Phinery team is anxiously awaiting waking up to sunshine, getting outside, and of course, decorating for the new season! Don't get me wrong, we love redecorating inside, but our best secret is that the exterior of your home presents a huge opportunity for a Spring makeover – you won't want to miss out on these tips.
Enhancing your home's curb appeal can be easier than you think and the best part is, a few small adjustments make a giant impact. We are sharing our favorite easy tips to enhance the curb appeal of your home that will not only bring you joy day after day, but impress the entire neighborhood. With Spring on the horizon, this is the perfect time of year to add life and interest to the exterior of your home.
House Numbers
House numbers are essential and like a lot of essential things, they often get overlooked as a stylistic choice. It is important to remember that house numbers can be functional and beautiful.  Upgrading your house numbers is quick, simple and makes such a difference! We love a sleek black set for a look that is classic, yet updated. Brass is another beautiful option that can feel a bit softer. This warm metal reads well on light exterior colors and deeper exterior tones like charcoal or navy.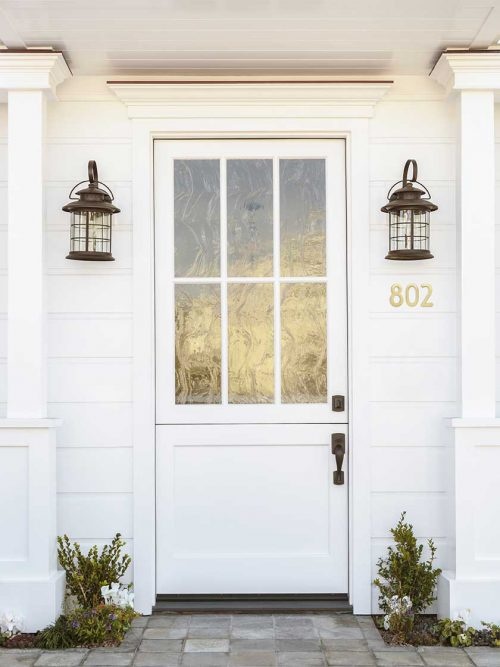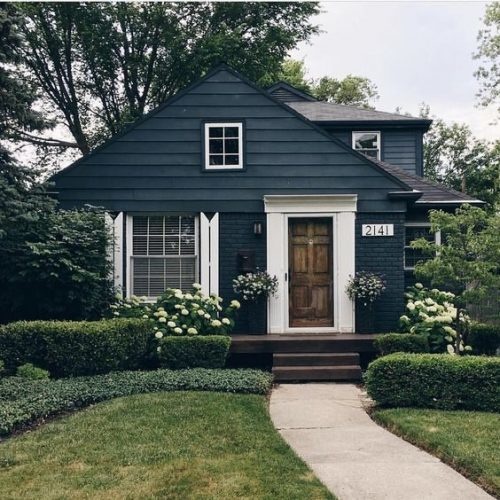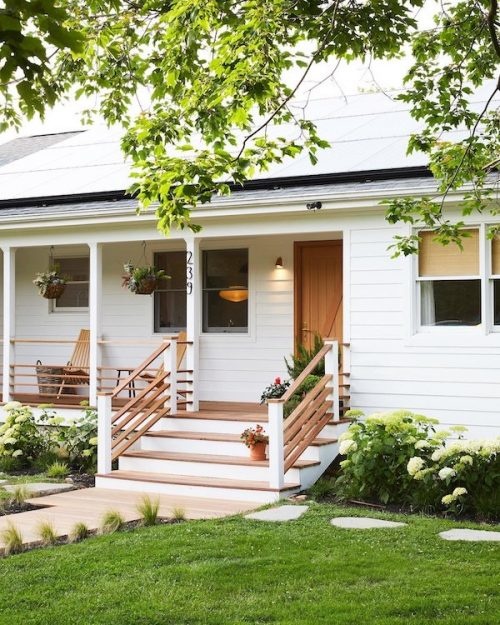 Pots & Plants
Greenery is one of our favorite ways to add life to an exterior. Two large planters flanking the front door is a great way to turn the entry in a grounded focal point. Multiple planters clustered on either side is another option if something more asymmetrical works better for your home.
Selecting the right planter is just as important as selecting the right plant. In the photo below, we went with tall, contemporary planters paired with streamlined, black flower boxes. This keeps the front step looking updated and on-trend. Adding planters and greenery is a great opportunity to play with different heights, scales and proportions to add visual interest. Remember, this can also be an opportunity to experiment with adding color with to the front of your home – flowers are another great way to add personality, color and texture to your exterior.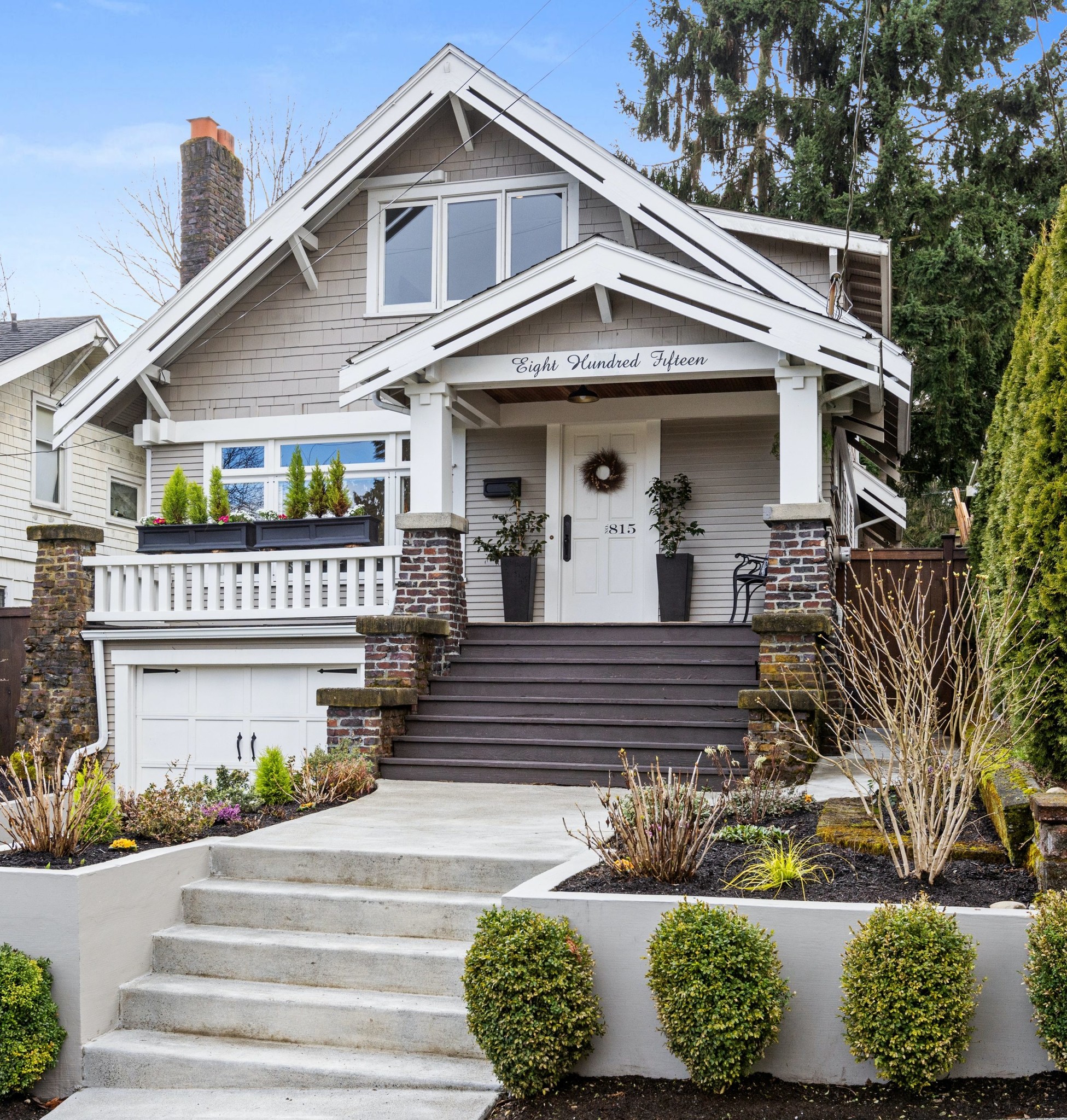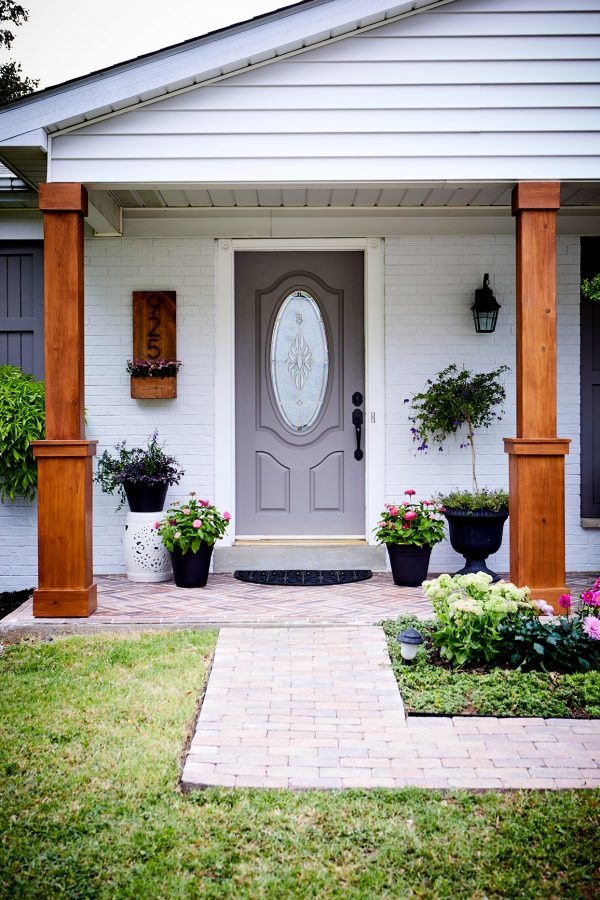 Lighting
Exterior lighting is another detail that can totally elevate your whole exterior look. Lighting makes your home look beautiful throughout the day and night. Think of it as jewelry during the day, metal finishes add an extra element of sophistication. At night, exterior lighting gives your home a soft, welcoming glow. Exterior lighting is so important when creating an intentional and well-rounded exterior design. Sconces flanking the front door is always a go-to, if you have a porch, we suggest a pendant or flush mount.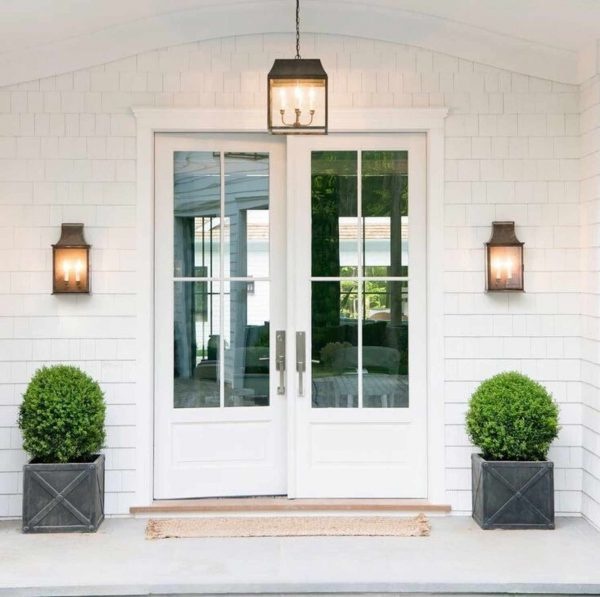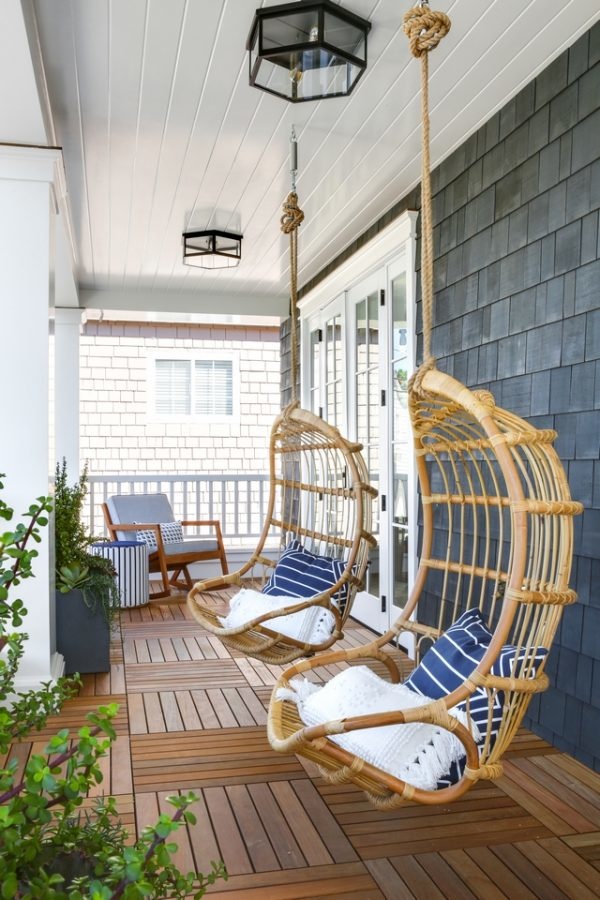 Incorporating color
Painting your front door is a great way to make a bold statement. A pop of color, like yellow or pink, is cheery and captivating from the street. Deep tones like charcoal or espresso add drama and sophistication to your exterior scheme. It is important to think about how this choice will work together will other exterior details like lighting and foliage.
If you prefer neutrals and a tone on tone look, consider adding color with greenery and punching up your look with unique light fixtures that incorporate an eye-catching metal finish. If you'd rather go for a bright color on the front door, other details don't have to be so loud.
Further enhance your front door with pretty hardware in your favorite metal (this can match your house numbers!). Read our blog on The Best Benjamin Moore Front Door Colors or book a color consultation if you need assistance selecting a front door color.
Check out this arched front door in Benjamin Moore's Amazon Soil framed with Benjamin Moore's High Park. It is a great example of enhancing your home's curb appeal with color. The black hardware and house numbers are the perfect compliment to this bold color scheme.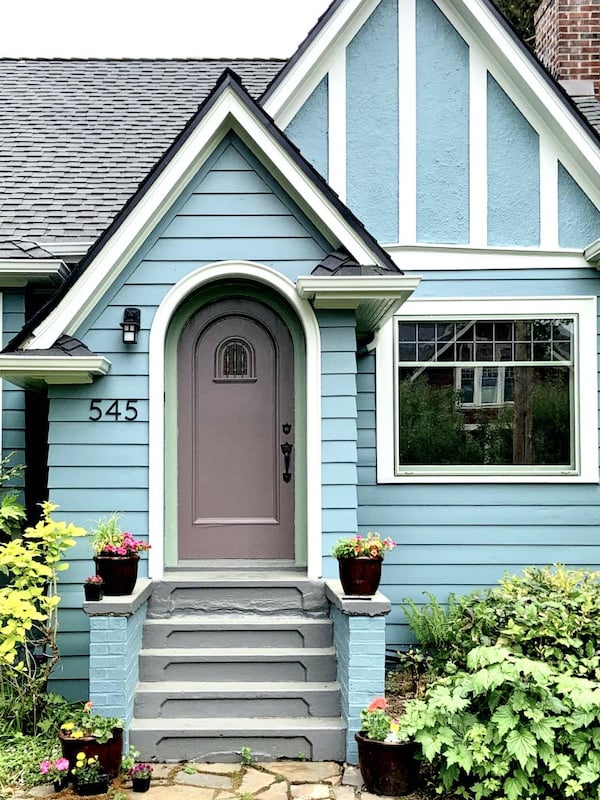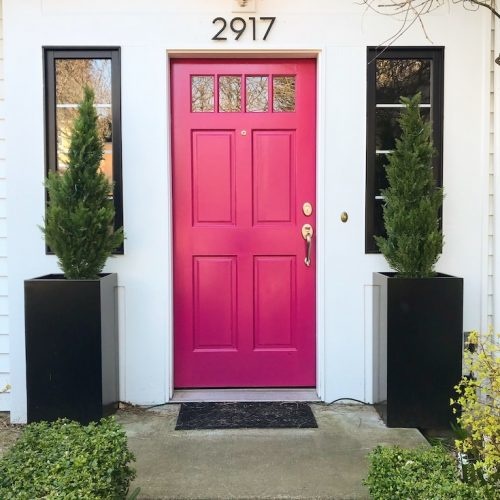 Furniture + Decor
If you have the space, adding furniture and decor to your porch or front step immediately elevates your curb appeal. An outdoor accent chair with a bold print is a great way to bring the personality that lives inside your home to the exterior. A bench is super welcoming and another great way to add color and interest to your entry.
Another thing to consider is an outdoor rug. It will help ground your outdoor furniture and add another layer of texture. If you don't have room for a rug, something as simple as a cute door mat can have a huge impact! Lastly, don't forget about pillows! Outdoor furniture is always best when accompanied by throw pillows. This design element creates an incredibly finished, sophisticated look.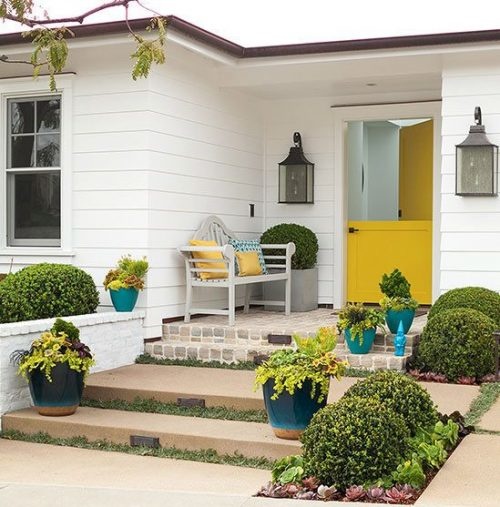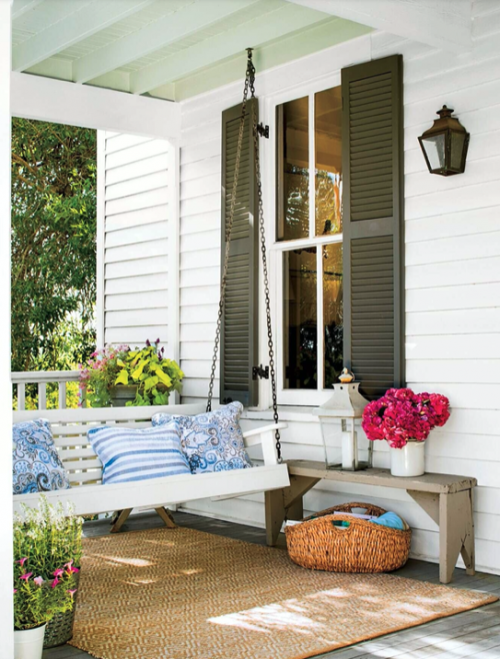 Accessories
Just like the interior of your home, the exterior requires accessories to achieve a 'finished' look. A wreath on the door is one of our favorites. It can be changed out seasonally or it can bring life to your home all year around if you go with something a more simple like a boxwood wreath. A boxwood is ultra-classic, its what we hang in the window of our shop door. Dress it up with a crimson bow for the holidays or something pastel for spring.
Lanterns are another outdoor accessory we love. They are a great way to add pretty metal finishes to your scheme and like pots, help ground the entrance to your home. Scale is really important when choosing something like this, so make sure your lanterns are large enough that they really make a statement next to your door. Items that are too small end up looking out of place. A mailbox is another way to accessorize your front entry. This item can play off your house numbers, light fixtures, even other accessories to bring the entire look together. We love a vintage-inspired envelope mailbox.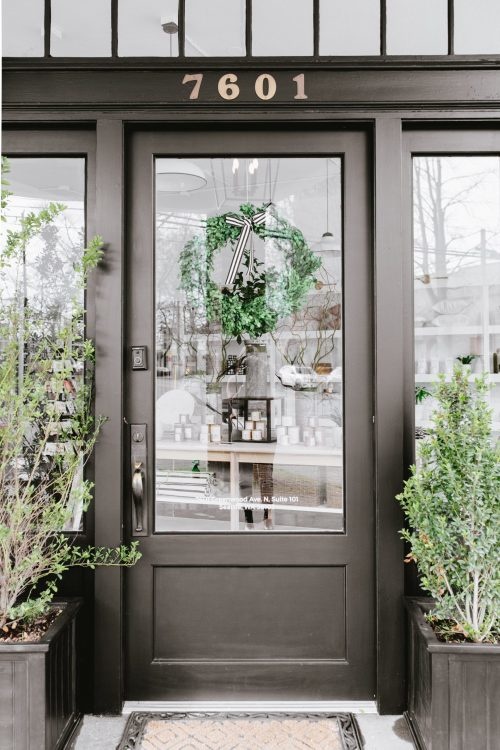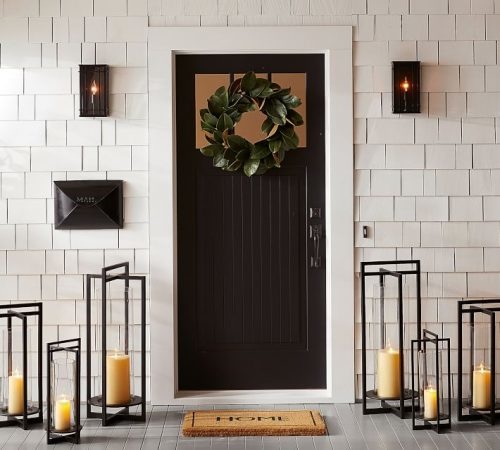 Interested in having a Phinery color consultant come to your Seattle home? Book a Consult.
Comments