Colorful and Cozy Family Room
Our design team brought life and personality to this light and bright great room.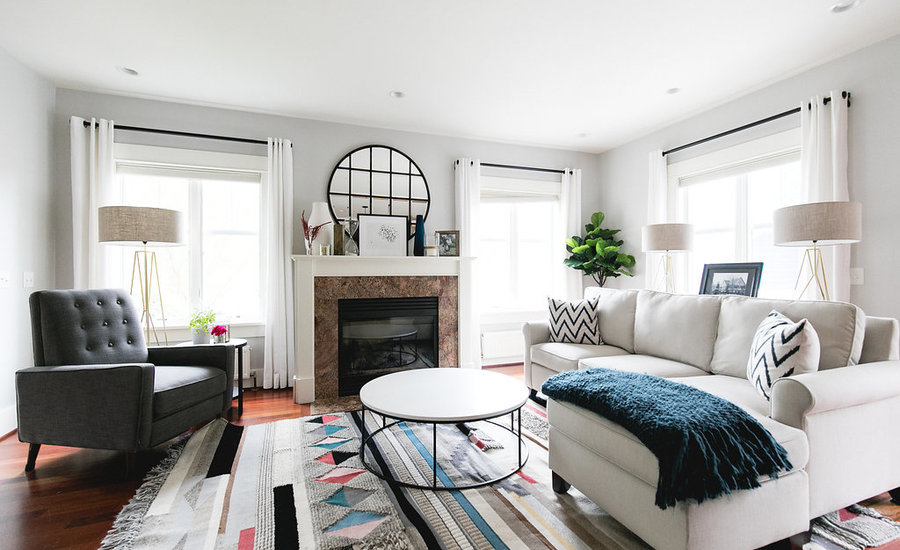 ABOUT THIS PROJECT
This modern contemporary family room is situated next to an open concept kitchen. The furnishings needed to be functional for a growing family while also being comfortable and inviting. We started with the chaise sectional to keep the room feeling open. The sofa upholstery has the look of a linen blend, while being ultra family friendly. The rug adds a bunch of personality and color to the room and compliments the rich hardwood flooring. Adding white draperies with black hardware added a cozy feel while really drawing the eye out to the beautiful landscaping on this property. We decorated the deep fireplace mantel with a large mirror + artwork, vases and botanicals – each varied at different depths. Overall, this modern contemporary family room absolutely feels cozy and stylish, and it just happens to be secretly practical too!
The bay windows in the dining room leading into the family room were adorned with patterned draperies to compliment the color palette established in the family room. A large wool gray rug was placed under the new dining table to establish the dining area within the bay window nook. The yellow and gray wool chairs are from Anthropologie.