Dramatic Vintage Living Room with Custom Built-Ins
Custom built-ins + french doors elevate this whimsical living space.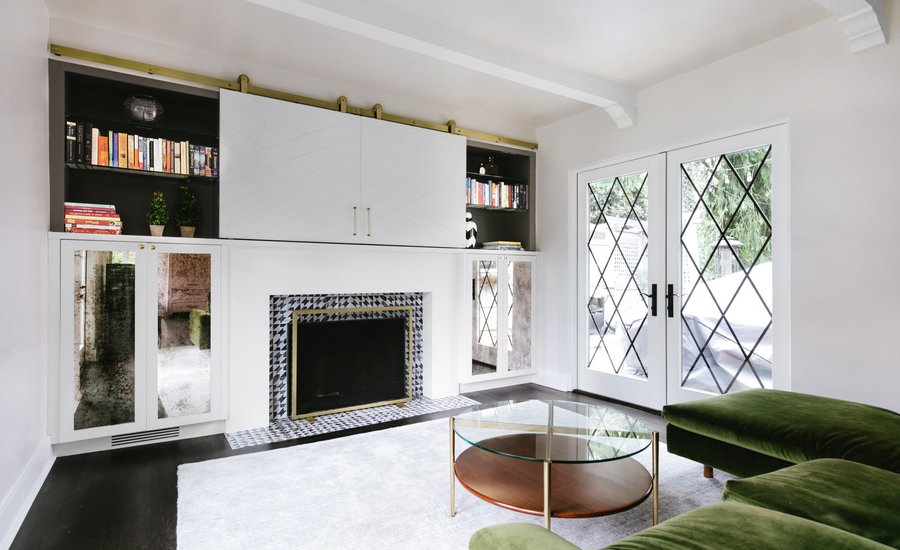 ABOUT THIS PROJECT
This living room is a special project because so many elements are completely custom and one-of-a-kind. It was really important to our clients to create a space that was unique and reflective of their highly creative personal style. The design started around our clients' request to find an innovative way to hide the TV in their living room and to add more storage. These needs turned into a fully custom built-in that included custom-designed sliding doors, brass hardware and mercury glass cabinets. We went with a dark paint color for the upper cabinets to add a bit of drama to the space and allow the client's accessories to pop. It was important for this room to have a wow-factor because it is the first thing you see right when you enter the home.
We even carried the custom element to the french doors leading out to the backyard. Our team worked with Pella to create fully custom doors with diamond lattice panes. We specified everything, down to the size and spacing of the panes.
Our team selected all the paint colors in this room and since there was a lot going on in the way of color and pattern via the furnishings and built-in cabinet, we wanted the walls to be a neutral backdrop that would highlight the rest of the custom elements. On the ceiling, we opted for a custom-mixed champagne shimmer. It is incredibly subtle but it helps cast more light into the room which is exactly what we wanted.
Because so many elements of this project were custom, we were super involved in managing this project throughout. It was very hands-on but highly creative, which was so much fun for our team. The end result was a space that was very whimsical, a little wild and totally unique. We loved working with these clients to come up with creative ways to solve design problems and to make their home a true reflection of their style.